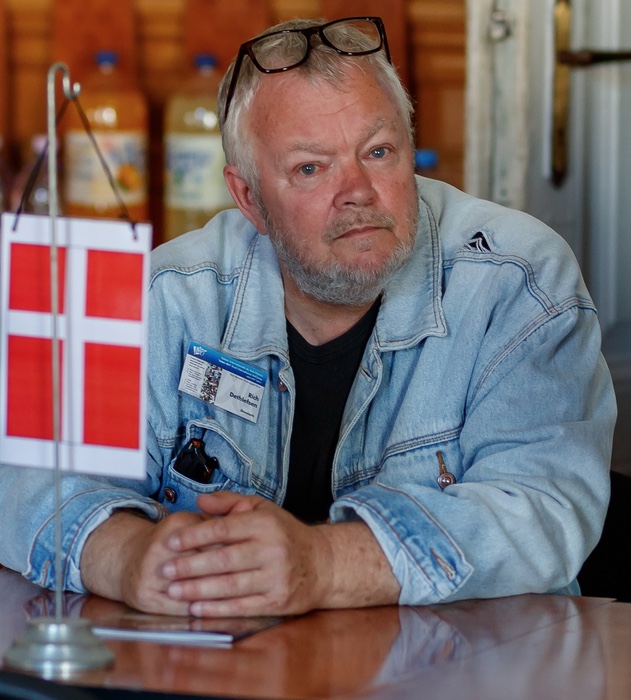 Rich. Dethlefsen
is an autodidact Danish artist. He has painted most of his life and works at the moment with acrylic on canvas. Over the years he has also made sculptures, digital art and photos.
His art-world is not easy to describe in words, he therefore does it with artworks. It is a combination of many factors put into his special kind of brain, that only he can refer to in his kind of art. But as he usually says:
"listen to your eyes and make your own decision".
He has, among other, exhibited in USA, South Korea, Russia, Romania and many places in Denmark, as you can see in his CV.

Art is an international language and he loves it.

Curriculum Vitae

Amnesti International exhibition Denmark 1991
BRA Forårs/Efterårs/vinter-udstilling Denmark 1991-2009.
Sct. Petersborg festival 2000. Coloristisk jamsesion. Tobakken Esbjerg, Denmark
IPE 2002. International printart exhibition, Daejeon Jung-gu Cultural center. Korea Printart – Esbjerg-Korea Images of Asia 2003 Yu Byoung-ho, Kim Jeen, Paik Chul, Rich. Dethlefsen.
Anniversary of St. Petersburg exhibition, Russia 2003
Rich+4. Korean Curency Museum 2004. Yu Byoung-ho, Kim Jeen, Paik Chul, Hong yong-sun, Rich. Dethlefsen. Korea.
Esbjerg-Hjælpen 2005 Denmark.
Galleri Nyhavn 43. København Denmark 2005.
Øksne hallen København Denmark. 2006.
Roskilde festival. Roskilde. Denmark 2006.
Galleri loyd. Oslo, Norway. 2006.
Politikens Hus København Denmark 2007.
Det Danske Kultur Institut, Bruxelles Belgiun 2007.
EU-art museum. Malmø, Sweden. 2007.
Lessedra gallery & Contemporary Art Project., Sofia, Bulgaria. 2008.
Gaude Mater. The center of culture Promotion. Czestochowa, Poland. 2008.
Galleri Amare. Stavanger, Norway. 2008.
Kalklinbanans mobile udstilling, Eskilstuna, Sweden 2008.
"A Viagem" at Chaoyang Park, Beijing, China 2008.
Gallery Marziart Hamburg Germany 2008.
Landfillart Project. Pennsylvania U.S.A 2009.
Nationalpark Vadehavet Project. Marbæk Denmark 2009.
Galleri Sung Daejeon Korea 2009.
That Gallery, Tsuen Wan, Hong Kong 2010.
Kalklinbanans mobile udstilling, Eskilstuna, Sweden 2010.
Gallery Broadway, New York. U.S.A 2011.
Il Borgo Gallery, Milan Italy 2011. Solo Exhibition
Ministry of Environment, Denmark 2013.
United Nations Headquarter, New York USA 2013.
"Active Aging" National Museum in Alba lulia, Romania 2013.
Gong-Ju Art Festival, Korea 2013.
Malom Gallery in Nyíracsád, Hungary 2014.
AthensArt International Philanthropic Exhibition, Monterrey/Mexico 2014.
Museum of the Shenandoah Valley USA 2014. Juried Art Exhibition
Lessedra gallery & Contemporary Art Project. 2014. Sofia, Bulgaria. Juried Art Exhibition
International Art Festival 2015. ART SPACE AMUR Contest of arts and crafts and monumental art «Master» Amur State University Blagoveshchensk, Republic of Bashkortostan Juried Art Exhibition
"Apollo" International Poster Exhibition 2015. Alba Julia - Romania
AthensArt International Arts Festival Oropos/Greece 2015. Juried Art Exhibition
Daejeon International Art Show , Korea 2015.
The Culture Lab at Mid-America Arts Alliance Kansas City, Missouri, USA 2015.,Juried Art Exhibition
70-th Anniversary of the United Nations Exhipition in UN headquarter, New York. USA 2015. Juried Art Exhibition
Temecula Valley Museum Temecula, California USA 2016. Juried Art Exhibition
"Rørpost" Esbjerg - Houston Esbjerg City Hall / UC syd 2016.
International Festival ART ENVIRONMENT AMUR 2016. "MASTER skaYA" Blagoveshchensk, Russia Juried Art Exhibition
Gwang Hwa Moon International Art Festival 2016. Seoul Korea
TEXAS A&M University - Kingsville 2016. Texas USA Juried Art Exhibition
Kansas City Public Library Missouri USA 2016. Juried Art Exhibition
The International Exhibition of Romania, Bucharest 2016.
Tifton Museum of Arts and Heritage Georgia USA 2016. Juried Art Exhibition
ArtCar Museum Houston, TEXAS , USA 2016.
Marrywood University Scranton Pennsylvania USA 2016. Juried Art Exhibition
J. Wayne Start University Center Galleries, Texas USA 2017. Juried Art Exhibition
Houston Cityhall Texas USA 2017.
California Center for the Arts Escondido California, USA 2017. Juried Art Exhibition
Inter Art Galleries Aiud Romania 2017. Juried Art Exhibition.
Muzeul de Arta Cluj-Napoca Romania 2017. Juried Art Exhibition.
Oxford Performing Arts Center AL USA 2017. Juried Art Exhibition.
Corvins Castle Transylvania Romania 2017. Juried Art Exhibition.
Cultural Activities Center Temple, TX USA 2017. Juried Art Exhibition.
The Core Project, Rua Red Gallery, Arts Council of Ireland, MART Gallery 2017.
Expozitia International de arta fotografia Dr. szasz Association pall Aiud, Romania 2017.
Daejeon International Art Show 2017. Korea
Ziua Culturii Nationale, Ceasul de taina al poeziei: Mihai Eminescu Galeriile Inter-Art Aiud, Romania 2018.
Charles H. MacNider Art Museum Mason City Iowa USA 2018. Juried Art Exhibition.
Waupaca Library, WI, USA. 2018. Juried Art Exhibition
Excelsior Springs Museum MO USA 2018. Juried Art Exhibition
Center for the Arts of Bonita Springs FL USA 2018. Juried Art Exhibition
"Silver land - Art" International Art Camp of Chorna Tysa Ukraine 2018
Art gallery Kutztown Pennsylvania USA 2018.
Inter Art Galleries Aiud Romania 2018. The International Mail art Exhibition. Juried Art Exhibition.
Inter Art Galleries Aiud Romania 2018. Intercontinental Biennal of Small Graphics Juried Art Exhibition.
Inter Art Galleries Aiud Romania 2018 Final Exhibition of the "Inter-art" International Art Camp 2018 Juried Art Exhibition.
Kafkas University - "Dystopia" Mail Art Project, Turkey - 2018
Montiegrin Namak Kemal University 2. International Mail art Bienal Turkey 2019
Mail Art-project Schwalbach, Kronach, 2019 Deutschland
"Apollo" International Poster Exhibition, Cultural Center Aiud 2019 Romania
Expo MailArt Alba Iulia 2019 Romania
Lanzarote Arts Festival - Lanzarote, Las Palmas 2019
"Tabara Internationala de Arta Plastica" Inter-Art-Romania- 2019
Intercontinental Art Exhibition "CULTURAL IMPRESSIONS", Yogyakarta, Indonesia 2019.
10th. Painting & mixed media competition. Sofia, Bulgaria, 2019-2020. Juried Art Exhibition.
The Holy Family trip to Egypt 2020 - 5th Edition.. Virtual Exhibition.
AthensArt International Arts Festival 2020. Virtual Exhibition.
19th Lessedra World Art Print Annual — Mini Print 2020. Sofia, Bulgaria.. Virtual Exhibition. Juried Art Exhibition.
"UNITED NATIONS - symbol of life, freedom & happiness"
Intercontinental Online Art Exhibition 2020 – 2021, Event dedicated to the 75th Anniversary of the United Nations, 216 artists – 193 countries – 6 continents, All 193 Member States of the United Nations:
ONE EXHIBITION AN ABSOLUTE WORLD PREMIERE!, Juried Art Exhibition.
COV-ART, Copelouzos Family Art Museum, Greece 2021.
Grafein - Grafiek, online exhibition - The Netherlands - 2021.
11th Painting and Mixed Media Competition Sofia, Bulgaria. 2020-2021.Juried Art Exhibition.
International Mail Art exhibition. Istanbul - Turkey 2021
Art Saves Lives. California. USA 2021
31st International Invitational Salon of Small Works, Kutztown Pennsylvania USA 2021
AthensArt International Arts Festival Athens-New Jersey 2021
Mail-Art la Aiud 2021 Romania
Inter-Art International Artcamp, 2021 - Online
Intercontinental Biennual of Small Graphics, Inter-Art Aiud Romania. 2021. Juried Art Exhibition.
In Alcala, Pangasinan, Philippines 2021
"Peace and Unity Through Art - 2nd. Edition . Bali International Art Festival 2021
Miniprint Annual 2021-20th Lessedra World Art Print Annual, Sofia, Bulgaria
INTERCONTINENTAL ART HAPPENING, "United through INTER-ART". Online Event 2021.
The Orphanage Gallery 73, North Dutoit Street, Dayton, Ohio 45402 U.S.A. 2022
"NO MORE MOVEMENT", International Art Exhibition - Modern Art Museum Ethiopia 2022
"Centenary of the Coronation" National Museum of the Union in Alba Iulia – Romania 2022
ArtLife Foundation, California USA 2022
Palazzo dei Capitani, Sala Cola dell' Amatrice, AthensArt International Arts Festival 2022. Juried Art Exhibition.
Grafein Internațional Print Mail Art Project, The Netherland 2022
New Arts Gallery, Kutztown USA 2022
Sala El Aljibe, Haria, Lanzarote 2022. Juried Art Exhibition.
World Charity Painting Competition, Asian Art Association of Singapore. 2022
Lacuna Festivals Clash, Spain 2022
Buse, Ali Erenus - Give Peace a Chance Project 2022
"Inter-Art" International ArtCamp, 25. edition, Romania, august 2022
"Beyond COVID 2022" Daejeon, Korea 2022
Bienala International De Arte Grafice Constantin Brancusi - Romania 2022
Namur's Cultural Center, Belgium 2022.
International Mail Art Exhibition "Centenary of the Coronation" Alba Iulia - Romania 2022
Included in the archives of American Arts Archives at the Smithsonian Museum Washington D.C. U.S.A. 2022
Intercontinental Travelling Art Exhibition "CULTURAL IMPRESSIONS"
Ethiopian Academy Of Sciences - Addis Abeba, Ethiopia 2023.
Abrak Art Gallery, Ethiopia 2023.
"The love show", California USA 2023.
6x62023 - The International Small Art Phenomenon Rochester, New York USA 2023.
"Soulful Revolution", International Printmaking Exhibition, Addis Abeba Ethiopia 2023.
Origin international Art symposium, Addis Abeba Ethiopia 2023.
"The Art Beneath | A Arte Escondida", Portuguese 2023
Ankara Meeting of World Artists, Erim Tan Museum, Turkey 2023